The heat network (metering and billing) regulations 2014 has recently updated.
This legislation is already in force in the UK but has been amended, covering every communal heating system across the Country. It forms a cornerstone of an international initiative to reduce energy consumption and increase efficiency.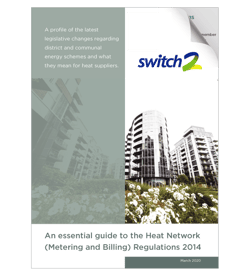 Our updated eGuide explains:
Which buildings and schemes are covered by the regulation (and which aren't)
How to ensure civil and criminal penalties aren't incurred against the new legislation
Recent updates to metering regulations and the use of feasibility tools
Find out how to ensure you're compliant with the latest legislation by downloading our most up-to-date eGuide.